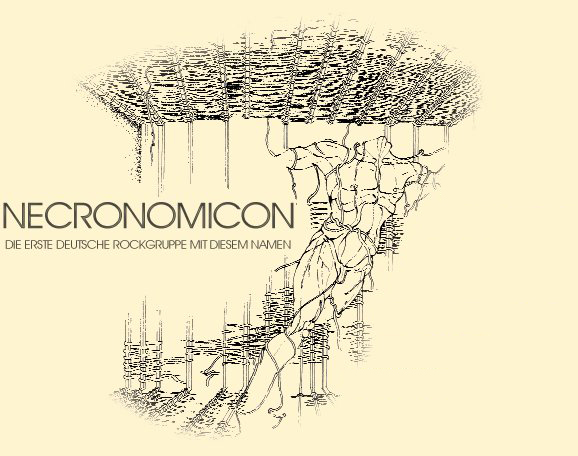 ---
---
News:
Label-Code: Necronomicon-LC 77778
---
Documentation of the Band Necronomicon.
A film by Roswitha Wirtz.
---
---
New LP + CD - Verwundete Stadt (Wounded City)
On Saturday, 28.10.2017, during a concert in the SPACE of the Ludwig-Forum, Aachen, the new Vinyl-LP + CD "Verwundete Stadt" was introduced. This is an album, in which NECRONOMICON in 5 symphonic rock songs deals with the manifold problems of modern cities. In "Trostlose Stadt (Desolate City)" the impoverishment of a metropolis is described, "Licht und Schatten" tells about the contrast between the living of rich and poor in the same town. "Frühling in Fukushima" tries to describe a glimpse of hope after a nuclear catastrophy. "Alle Jahre wieder" is a studio version of an anti war song which already has been published in a live version in 2016, which originally was written in 1974 against the war in Vietnam. Unfortunately the topic is still up-to-date.
"Verwundete Stadt Berlin" deals with the terror attack of Berlin in Dec. 2016.
Cover

The CD additionally comprises a short version of "Licht und Schatten"
---
Friday, 31.03.2017, concert in the "Franz" in Aachen,
Franzstr. 23, Admission: 19.00, Start: 20.00.
Advance sale via "Franz" (www.franz-aachen.de) and Eventim (www.eventim.de)
---
New CD - Verwundete Stadt (Wounded City)
Winner of the 1st price in the category "Best Progressive Band" during the finale of the 34th German Rock & Pop Award 2016
---
New CD - Verwundete Stadt (Wounded City)
For the first time in their history the band wrote a song lasting only 3'30". Thus, the song theoretically might be presented in radio broadcast.
As a bonus track the CD comprises a recent live recording of a song which in 1974 was written as an Anti-Vietnam-War song "Alle Jahre Wieder".
Details: 2016 - Verwundete Stadt (Wounded City), CD
The CD can be ordered from our new Shop. Both Songs also can be downloaded from there.
---
Winner of the 1st price in the category "Best Progressive Band" during the finale of the 34th German Rock & Pop Award 2016
"Verwundete Stadt (Wounded City)" won the first price in the category "Best Progressive Band" during the finale of the 34th German Rock & Pop Price on Dec., 10, 2016 in the "Siegerlandhalle" in Siegen, Germany.

Further informations for this event can we found on the website of the festival organizer Deutsche Popstiftung